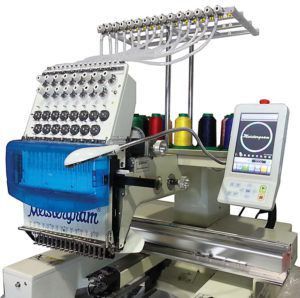 Meistergram's line of Multiple Head Embroidery Machines is designed to offer reliable, efficient, and quality production. The multi-head machines range from 2 heads to 48 heads, with up to 15 needles per head, and boasts 850 stitches per minute sewing speed. These features create faster production without sacrificing consistency in patterns, stitches, or quality of the finished product while still providing you with the flexibility to handle jobs of any size.
The Meistergram Embroidery Machines are suitable for large flat embroidery designs, tubular garments and a variety of other applications. Users often embroider names, designs, and logos on caps, hats, shirts, pants, bags, blankets, towel and many other varieties of garments and textiles.
All Meistergram Embroidery Machines include the following features:
Flat & Tubular(hat) Sewing

Servo Motors

Japanese Components

Auto Color Change

Auto Thread Trimmers

Auto Thread Break Sensors

Built-in Noise Reduction Technology

Stores Up to 99 Designs

Memory Retention after Shut Down
Built-in Bobbin Winder• Large Sewing Field

Hoop Kit – 2 of each hoop – 12cm, 15cm, 18cm and 12×12 hoop sizes

Oversized Border Frame (Sash Frame)

Cap Frame and Hoops

2,000,000 Stitch Memory

USB Jump Drive Connection

9 inch LCD Control Monitor• Narrow Cylinder Arm
Models:
Gem 1500 Compact Embroidery Machine
INCLUDED is a machine designed to be portable for remote jobs like ball games, state fairs, malls, shopping centers and much more. The compact design is ideal for small work rooms and can fit on a workbench. Size does not limit the PRO1500 from tackling embroidery applications such as names, designs and logos for caps, hats, shirts, pants, bags, etc.
Touch-screen Control Panel 7″ Color LCD

Laser Light for Design Tracing

Servo Motors for quiet and accurate operationPro1500

Built In Noise Reduction Technology

Built In Energy Saving LED Workspace Lights

1,000 stitches per minute

Automatic Thread Trimmer

Automatic Color Change

Memory Retention After Shut Down – No loss of design information in the event of power failure

Linear Pantograph Drive Movement

110v single phase power (standard wall plug)

Emergency Stop button

Custom Machine Stand with adjustable height leveling feet and lockable wheels