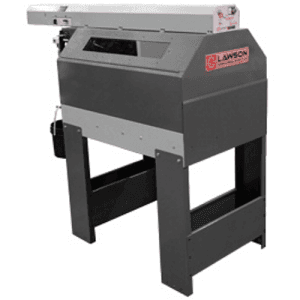 Pre-Treat Zoom XL Sprayer
Pretreat garments quickly, easily and consistently at the touch of a button – with zero "out-spray". If you are looking for pretreat spray automation, the Lawson Zoom XL features many cost-savings benefits and provides the ultimate in consistent spray applications. This all-air pretreat sprayer works with every direct-to-garment printer's pretreat solution, and we guarantee your total satisfaction!
This is a completely self-contained spray chamber that features an automatic slide drawer platen for easy shirt/garment loading. The platen drawer slides out automatically for you to load your shirt on the poly-shirt board, press the start button and then unload your finished shirt in seconds. The Zoom XL is shipped fully assembled, and after you connect your air, will be working right out of the box (air compressor not supplied). Eliminate the learning curve needed to spray by hand to properly pretreat your direct-to-garment items. Now you can achieve consistent and professional results on every garment, every time. With simple air controls, the Zoom XL sprays the perfect amount of pre-treat solution every time, so you get quality prints, day after day, and save on the cost of pretreat solution too. Pretreat four shirts with the Zoom XL in the time it takes to pretreat only one shirt with a Wagner-type hand sprayer.
• Totally Enclosed Spray Chamber
• Adjustable Spray Length
• Adjustable Spray Volume
• Double Spray Canisters (2 Canisters)
• Easy Access Spray Chamber
• Direct-Drive Air Spray Head
• Consistent Uniform Spray
• Pre-Treat Nozzle Filter
• Easy Air-Connection (1/4″)
• Quick & Easy Hinged Side Access Panel
Lawson Literature…… CLICK ME
Call for pricing 562.408.6144 or email info@garmentprinter.com